Secretariat Staff
Secretary of Public Safety and Homeland Security
Brian J. Moran
Brian J. Moran was appointed by Governor McAuliffe in January 2014 and reappointed by Governor Northam in January 2018 as Virginia's first Secretary of Public Safety and Homeland Security. The Office of the Secretary of Public Safety and Homeland Security is comprised of 10 state agencies and includes the Homeland Security Division. Secretary Moran serves as the Governor's Homeland Security Advisor and the Governor's Criminal Justice Advisor.
Throughout the course of his appointment, Secretary Moran has led the effort on numerous criminal justice reform and homeland security initiatives. The Virginia Department of Corrections enjoys the lowest recidivism rate in the nation for the third consecutive year. He has supervised the transformation of Virginia's juvenile justice system. He negotiated raising the felony larceny threshold for the first time in 38 years. Secretary Moran also developed states' response to permitted events and states' preparedness for civil unrest after the events in Charlottesville in 2017.
Prior to his appointment, Secretary Moran served as a long time County prosecutor in Arlington, Virginia. In 1996, he was elected to the Virginia House of Delegates representing the city of Alexandria and Fairfax County, a seat he held for 13 years. He championed and sponsored legislation in the areas of child abuse, domestic violence, drunk driving, drug interdiction and elder abuse. He forged bipartisan coalitions and support to pass numerous pieces of legislation. Most notably, he created the felony drunk driving law and Alicia's Law, which provides law enforcement the necessary tools to stop internet sexual predators from preying on our children.
Secretary Moran received his bachelor's degree from Framingham State University and his Juris Doctor from the Columbus School of Law at The Catholic University of America in Washington, D.C. In 2015, he was awarded the President's award by the Virginia Association of Chiefs of Police. He was recently elected to the Executive Committee of the Governors Homeland Security Advisors Council.
Deputy Secretary
Nicky Zamostny
Nicky Zamostny was appointed as Deputy Secretary of Public Safety and Homeland Security in January 2020 after serving as the Assistant Secretary of Public Safety and Homeland Security since January 2018. As Deputy Secretary, Nicky is the liaison to the Department of Criminal Justice Services, the Virginia Department of Fire Programs, the Virginia Parole Board and the Virginia State Police. She also manages legislative initiatives within the Secretariat.
Prior to her appointment by Governor Northam, she was the Policy and Legislative Director for the Virginia Department of Emergency Management, and formerly the Assistant Secretary of Public Safety and Homeland Security under Governor McAuliffe. During her tenure in both Administrations, she has served as an advisor on gun violence prevention initiatives and worked with Secretary Moran to pass historic, bipartisan firearms legislation in 2016, which included the one of the toughest, if not the toughest domestic violence firearms law in the nation.
Nicky holds a Bachelor's degree in Psychology from Virginia Tech and a Master of Social Work degree with a concentration in Social Work Administration and Policy Practice from Virginia Commonwealth University.
Deputy Secretary
Jae K. Davenport
Prior to her current appointment by Governor Northam as Deputy Secretary of Public Safety and Homeland Security, she served as Deputy Counsel to Governor Terry McAuliffe. Ms. Davenport began her professional career as a public defender in Franklin, Virginia, where she represented juveniles and adults charged with misdemeanors and felonies in three jurisdictions. Subsequently, she was the Standards of Practice and Legal Training Attorney for the Virginia Indigent Defense Commission (VIDC) where she oversaw the enforcement of the mandatory standards of practice, certification of court-appointed counsel and legal training for all public defenders and certified attorneys. She was also a legislative advocate for the VIDC.
Ms. Davenport was born in Seoul, Korea, but has spent most of her life in Richmond and earned her B.A. from Mary Baldwin College and J.D. from Syracuse University College of Law.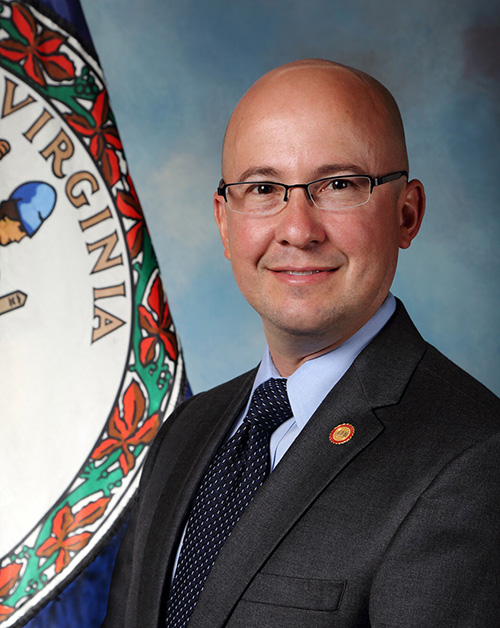 Assistant Secretary
Shawn Talmadge
Shawn Talmadge was appointed as Assistant Secretary of Public Safety and Homeland Security in 2018 where he supervises the Secretariat's Homeland Security Division. He has served within the emergency response and homeland security field for over 25 years at the state and local level as an incident commander, critical care paramedic, firefighter, and hazardous materials technician, ultimately achieving the rank of Battalion Chief in the Hanover County Fire-EMS Department.
In his current role, Mr. Talmadge supervises a staff focused on the development of new initiatives and policies within critical infrastructure protection, cyber security, homeland security, and public safety communications interoperability.
Throughout his career in the Virginia National Guard, Shawn held a number of leadership roles including Battalion Commander, Executive Officer, Chief of Joint Operations, and Deputy Commander of the CBRNE Enhanced Response Force Package (CERFP). He led a number of initiatives including the development of CERFP training standards and doctrine, established standardized response task forces to speed response to domestic emergencies, the development of less than lethal technologies, and managed counter UAS and detection operations. His awards include the General Douglas MacArthur Leadership Award for recognition as the top company grade officer in the US Army, the Bronze Star Medal, the Meritorious Service Medal (3rd award), the Purple Heart and others. After two deployments to the Middle East, Shawn continues his service in the Virginia National Guard as an Operations Officer at Fort Pickett.
Previously, Mr. Talmadge was appointed as Virginia's first Director of the Homeland Security and Resilience Staff Group under Governor McAuliffe's administration where he re-established the Statewide Interoperability Executive Committee, led the state's FirstNet evaluation process resulting in Virginia being the first to opt-in to the nationwide wireless network dedicated to public safety users, and established a variety of new critical infrastructure and cyber security initiatives designed to bolster the resilience of Virginia.
Shawn has coauthored national level, interagency response protocols to large-scale incidents, responded to numerous regional and state level disasters, and presented at conferences on various homeland security topics. He received his Bachelor's Degree from Virginia Tech in Human Nutrition, Foods, and Exercise and a Master's Degree from the Virginia Commonwealth University in Homeland Security and Emergency Preparedness. He also holds the Certified Emergency Manager designation from the International Association of Emergency Managers.
Homeland Security Policy Advisor
Danielle Crowley
Danielle Crowley was appointed as a Special Assistant for Constituent Services by Governor McAuliffe in May 2017 before transitioning to the Office of Public Safety and Homeland Security. She was reappointed by Governor Northam to continue to serve as the Confidential Assistant to the Secretary of Public Safety and Homeland Security in March 2018. Danielle liaises with all ten public safety state agencies, coordinates agency hiring and travel, and directly supports the Secretary in planning and logistics.
Prior to joining the Governor's Office, Danielle completed her Master's degree in Intelligence and International Security at King's College London with her dissertation focusing on the Syrian Refugee Crisis. She previously served as a Junior Fellow and Research Assistant at the Center for American Studies, focusing on nuclear non-proliferation, while she completed her undergraduate degree at Christopher Newport University. Danielle was Governor's Fellow in 2014 for Governor McAuliffe.
Policy Advisor
Jacquelyn Katuin
Jacquelyn Katuin was appointed as Policy Advisor to the Secretary of Public Safety and Homeland Security by Governor Northam in January 2019. As Policy Advisor, Jacquelyn serves as a liaison for ten state agencies, oversees press inquiries, and helps manage legislative initiatives within the Secretariat. Prior to her appointment, she served as a legislative intern in the office of Senator Tim Kaine, working on a variety of issues from education to healthcare. She also previously worked as a research associate at a higher education consulting firm in Washington, D.C.
Jacquelyn earned her Bachelor's degree in Psychology and Master of Public Policy degree from the University of Virginia.
Executive Assistant
Michaela Mizrahi